Apr 25 2016

Kevin Max gives LTTM an in-depth look at his brand new album 'Playing Games With The Shadow', and talks about why he's at his happiest in the studio creating music. He also discusses musical influences and working with British artists Philippa Hanna and Stu G.

Tell us a little bit about this new album of yours?

I wrote this project as an experiment in being 100% pure to who I am as a writer and an artist. I wanted my imagination to pick up on whatever hit my fancy in the moment. I also played every song either on my piano & synth, and the demos were finished out before I brought them in for production. So, there were no co-writes or collaboration when it came to writing the songs.

I have been a fan of new wave 80's music my whole life, and just recently its been showing up more in my music. I think people really saw at last on 'Broken Temples' with songs like 'Desperate Heart' and That was Then and This is Now.' I knew on this album, I wanted to really go there and finish what I started, when it came to going down the new wave, synth inspired road. Bands like duran duran, Roxy Music, the Cure & The Smiths, shaped what I liked about music at an early age.

I've told a lot of my friends that the new duran duran album 'Paper Gods' was a poor excuse for a duran duran album... I appreciated that they had embraced their roots on the album before it, 'All You Need Is Now' but I felt that they really missed the boat this time. I created the album 'Playing Games With The Shadow' with the idea that I would make the songs duran duran should have. I want to insert laughter here... :) because I know that its ridiculous, but the 80's new waver in me was tired of not hearing it.

So I did it on my own in the year 2016, going against all trends or whatever is selling in my own industry. I had help from my friends however in the studio... John Mark Painter, Stu G, Todd Evans and Bobby Huff came together and helped me realize these tunes, and made them sound way better than my iTalk recorder demos.



The songs range from personal to abstract, 'Girl With The Tiger Eyes' is a metaphorical journey back to my days in Los Angeles after leaving Nashville and being dumped by my label and going through some rough personal experiences. Los Angeles, the city itself, became like a dangerous oasis for me to escape to. Instead of facing my problems with friends, I become isolated and went on a self imposed trek to find my soul.

'Skin Of Our Teeth' is a song about the entertainment industry and how it can damage one's true self... fame does nothing good for anyone. 'William Blake' is a tribute to the largest inspiration to me in both art and philosophy. 'Muzick is Magic' is a look at how the power of music can transform and heal… it has gotten me through some very tough times.

'Election' is probably the most poignant song on the album when it comes to how I feel about the community that surrounds me in the industry and within the church. I started out as an outsider and I feel that as time goes on, I find myself still an outsider…. I am at odd's with corporate worship and corporate religion in general. I feel that the more I search for God, the more questions I have. I haven't lost my faith, nor do I ever think I will…. It is something that is strongly embedded within me… I am 'haunted by The Christ'… my wife tells me that over and over and its true. No matter what I write, or create or sing about, it always comes back to my beliefs in a higher calling.

'Panic Button' is the one song on the album that comes full circle back to a source of commitment and belief in Christ. But the overarching theme would be the feeling of being ostracized and being an outsider in this world of social media and cultural cliques.

'Circus The Night' is honestly a song about losing yourself to another person…. I have done that in my life, and I am fortunate enough to have gone through some tough circumstances with relationships that have broadened my understanding to the point of now, having a very successful marriage. I wouldn't be able to do anything without Amanda Lynn Max.

Which is your favourite track on the album and why?

I think it would be 'Girl With The Tiger Eyes'... I don't think I've written as good a pop song in quite some time…. its all there really, a hook, some lyrical depth and a story... When you write something like this, you know you've done something good... its rare for a songwriter to really love every song he or she creates... but this one I truly love.

If you could work with any songwriter, who would it be and why?

Hmmmm... I would probably have to say Brian Eno. I think his abstract sensibilities would work well with my need to push the pop boundaries. Lots of people call me eccentric, but if you really listen to my music, I'm just a hack pop writer. I am constantly growing and getting better in my craft. So I would need someone like Eno, or Tony Visconti, who could challenge me.

Do you prefer playing live or working in the studio?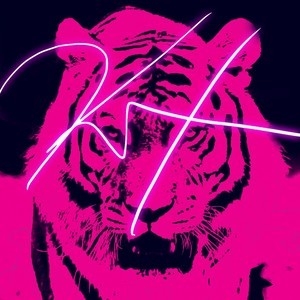 Absolutely working in the studio. I am the happiest when I am creating something. Doing live shows are like an afterthought for me at this point in my life. I know I have to do them to provide for my family, and when I finally do get out in the stage, I really do have fun. But the allure of having people screaming or clapping for me is gone. It just is... lots of my peers are still chasing that dragon all over the planet.. not me. I find it more graceful to mature and dig deep creatively, though change and experiment, than trying to perform the same music night after night. Nothing against artists that do that, but for me, I find it distracting and at times counter productive.

When I did my short stint with Audio Adrenaline from 2012-14, I got that out of my system again... I started out excited to go on the road and play in front of people every night, but after a year of it I started missing my kids and needing to fulfill that itch within me to create. It was a great experience to travel with friends and make rock and roll for the youth culture, but honestly it wasn't in me 100%. I started doubting myself night after night and I began to let my mind wander back to creating my own brand of music.

I will say, though, that it was different when I was in dctalk... at the end of our career we starting writing together, and that process was fulfilling. When you find a group of like minded people that can create something truly great together, that is a fantastic and rare opportunity.

How would you describe your style of music and what are your influences?

I described it many years ago to a friend as 'Euro-Dark.' I am greatly influenced by European thinkers such as William Blake, Tolkien, Lewis, Emanuel Swedenborg, Oscar Wilde, etc.. My imagination was shaped by Sci-Fi fantasy writers like Frank Herbert and Stephen Donaldson... so I tend to be drawn to the romantic and the mystical. Musically, The Beatles, David Bowie and of course all of my new wave inspirations informed me at a young age. I still can't write a song on the piano without thinking it sounds like John Lennon or Paul McCartney.

You appear on the new Philippa Hanna album Speed Of Light, what was it like working with the British singer?

Philippa is a wonderfully sweet and genuine person. I met her a couple years back, and I'm not sure how.. haha.. but we have kept up. She had written with me at EMI for this album that she was doing and honestly, I never though it would be cut or I would see her again. Then she called me up and had me over to a studio in Franklin and we sang the song together. It was a great time and I really appreciate her sense of melody and her vocal style.

You're stuck on an island, it's hot, you only have enough battery life left to listen to one of your favorites album of all time on your mp3 player. What is it?

I would probably have to say 'Last Night I Dreamt Somebody Loved Me' by The Smiths. I could listen to that for quite some time... and I have.

What does the next year hold for Kevin Max?

Well 2016 is already quite busy... writing this album and now releasing it and trying to sell it and market it on my own, I have my work cut out for me. I am already dreaming of the next project of course, but I am trying to get a handle on how to be a good businessman as well. The really exciting thing currently is that we are in the middle of a move. It isn't totally finalized yet, but we have sold our home in Franklin and we are moving out further into the country. I am buying a farm… literally. I grew up on a farm, and I find myself the happiest when I am out in the great wide open. However, I am wanting to use the property as a place for people to retreat, relax and record... call it the Triple R ranch... or to be specific, 'Blind Thief Farm.' It has a built in studio, and am getting ready to embark on building a state of the art demo studio so that I can create music whenever the whim hits me, which is literally all of the time.

Find out more at kevinmax.com