Blog: Behind The Scenes on Roy Fields Tour
Jul 21 2009
Our friend Dave Johnson sent us this guest blog from behind the scenes on International worship leader Roy Fields recent UK tour.

For the majority of you who've never heard of me be let me just explain who I am. I'm Dave, no not the Dave that co-runs LTTM, but I have taken some pictures for him in the past, and amongst other things I'm a freelance sound engineer. Last year I had the great pleasure of being asked to help out with Roy Fields first UK tour and it took me about a nano-second to respond. Originally the tour was only meant to be for two weeks, however those two weeks soon turned into three. Three turned into four, and so on. At the end of 6 weeks traveling all around England, Wales, Scotland and Ireland, God TV put 5 nights from Winchester Vineyard Church live on air and Roy's first live album, aptly named Live In The UK, since Lakeland was recorded. By the end of the tour Roy and Melanie saw approximately, 1,557 commitments and recommitments.

As LouderThanTheMusic.com has already featured Roy and Melanie briefly came back to the UK for 4 nights of meetings to celebrate the release of Live In The UK and to sign a record deal with Kingsway for the release of future material. Once more I was asked to help out with all things sound and production related. So below are glimpses into my world as the We Are The Generation tour returned to the House of Destiny in Bournemouth.

After a relatively short drive along the South coast I arrived back at the House of Destiny in Bournemouth where we'd previously been in October 2008. My overwhelming memory of the first time was of a group of believers who were ready to see God move in an amazing way. I was immediately greeted by friendly faces who ushered me back into the venue where to my relief there was an Electric Piano for Roy to use.

Duncan (bass player), who was looking slightly tired due to arriving back from our previous event in Leicester at 3:30am, and his wife (Maria) arrived shortly after me. Between themselves they quickly got his equipment into the main hall ready to start discussions on where people would fit on stage.

Should bass go next to drums on the drum riser? Which way should the guitar amp be facing? What connections to inputs and outputs does the venue have? How best can things be wired in without compromising the bands "sound" or annoying the hired in sound man? That's what my job this time and, thinking about it, last time was - the hundreds of little decisions that people will never notice but make the operation run like clock work.

Paul (electric guitar) arrived next, he also quickly got his equipment, and some of the merchandise, out of his car and we resolved the next issue; Guitar Amp in one place, Guitarist in another. It's one of those sad facts that for every issue solved it creates two or three more. Mark (acoustic guitar/worship leader) arrived slightly after Paul and to the great relief of both myself and Duncan had several vital pieces of equipment; Arguably the most important of these was Roy's keyboard, as this holds his signature sound, but also Duncan's bass guitar and amp head arrived too.

The final piece of the band jigsaw was the arrival of drummer Andy Balls. With all the team arrived my job splits into two. The first thing I have to do is to make sure that the sound man gets all the information that I acquired over my time with the team last year. The second thing I have to do is once we're all setup is get Roy's monitor mixes as close as I can to being how he likes it so that he only has to make minor changes - namely louder.

With the band setup and sound check completed and even time for some rehearsal of the likely songs for tonight, Roy arrives, along with his tour manager, another Mark, and starts making his fine adjustments to his monitor mixes. The ultimate compliment for anyone involved in production or sound is to get everything close enough so that the artist can come straight in and get on with what they plan to do.

After a further rehearsal and getting those final bits sorted; lighting, songs and words it's off for some food together and the Wimbledon final which was being shown in another room in the Church. There were, at one point, some worries that the start of the meeting would have to be delayed due the tennis lasting forever. Fortunately for all concerned Roger Federer finally took the upper hand and won, the meeting could begin at 19:00 after all.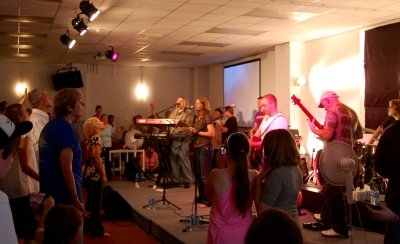 With the start time rapidly approaching it was time for a quick prayer. Then it's on too start the evenings worship. I now have only a few jobs left. Job number one is one that I fell into on the tour last year - I am the inflatable keyboard player. Roy has been quite unique in letting another worship leader start the evenings off so to create a fuller sound, I've had the great pleasure of jumping on and playing for between 5 and 15 minutes.

With the venue packed tightly we began the evening with a new song "All For You", which features on Live In The UK and then transition into "Hosanna (Praise Is Rising)" with a big finish on a G chord I disappear to tell Roy what key we've been in and head off for a cold bottle of water as a packed venue on a warm day combined with all the lighting was just a little bit warm. Backstage I track down Roy's manager and get his camera so that everything that happens throughout the evening can be documented on his Run With Fire ministry website.

Roy and team now rattle through about 90 minutes of praise and worship including a new song that was written in the worship time at All Nations Centre in Leicester just a couple of days before. I get to enjoy my time worshipping and taking photos but aware that I have to stay alert just in case a technical disaster should happen. Once the worship finishes I pass the camera to Roy's manager and head off to relax with the team; a chance to reminisce about last year, a chance to discuss the future.