Featured Artist: The Neverclaim
Jul 08 2015
Yes, life might be falling apart. The temptation to succumb to despair, depression and panic can be real. Even for Christ-followers, we still face troubles. Someday, we knowor at least want to believe that things will change, and we'll find joy. But why not choose to make that day... today?

Jeremiah Carlson's entire life changed when he stopped waiting for something or someone to help him fight his emotional and spiritual turmoil and accepted that those battles going on in his head and heart had been won already.

"I was laying in bed with pneumonia one night with my world caving in on me from all directions," recalls Carlson, frontman of the Portland, Oregon band, The Neverclaim. "In the midst of some heavy anxiety, I could hear God tell me to stop being a victim. Rise up, victorious. He invited me to a new state of mind, which didn't mean an instant, easy change, but it was, no doubt, a vital turning point."

Thus, as Carlson and his band mates Chuck Hill (bass), Mitchell Maldonado (guitar/keys) and Beji George (drums) set to work on The Neverclaim's second studio album The Joy with two-time Dove Award-winning Producer of the Year Ian Eskelin, the overarching theme woven between the songs was a no-brainer.

"Almost every song on this new project is centered around the joy of the Lord as our strength - our identity in Christ and the victory that's won in Christ," Carlson says. "Not that we shy away from the reality that living in a broken world affects all of us, but despite our hardships, we have access to a greater reality that fills our hearts with joy. We will face battles in life, but Jesus has won the war. We believe people are hungry for authentic joy, a joy that is not based on circumstances, but on the fact that God is for us, so nothing can be against us."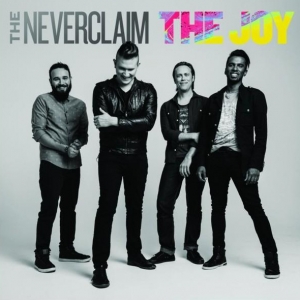 The flagship band on Eskelin's new imprint, Radiate, The Neverclaim took full advantage of their producer's penchant for crafting fresh, accessible, radio-friendly pop-rock tunes mixed in with the creative sound they have been known for during the creation of The Joy. Having established notability as a high-impact, passionate, energetic and fun live worship act for years, the four-piece went into the studio, poised to keep the tempo up and their signature anthem-feel consistent and in place. The new batch of songs favor an electronic-infused, indie-pop rock sound that is both familiar and fresh.

One stand out track being singled to radio, "Jesus Is," came at the eleventh hour. The Joy was finished and ready to go to print, but Carlson and Eskelin met for one more songwriting session. Out of that meeting came a clarion call for believers that the band knew needed to go on this record.

"We face a culture that tries everything possible to make Jesus seem irrelevant, as if He is nothing more than a fairytale or a legend of the past," says Carlson of the impetus behind "Jesus Is." "Those of us who know Christ, know He is not just some simple religion, but the living God who not only was, but is and is to come. He lives inside of us and has changed us completely with His love and nothing can change that."

In addition to "Jesus Is," some of the album's particularly great moments include the free-spirited, rock 'n' roll-riffing, gang-vocal'd title track and lead single, "The Joy," and the infectious, worshipful choruses of "Rules And Reigns," "Everything" and "Our God Wins."

"The theme of 'Our God Wins' has been on my heart for years," Carlson says. "It's taken from John 16:33. 'In the tension, that's where hope begins.' It's only in the fires that we're refined. The tension makes us stronger. It's an ultimate reality we stand on, that, because we belong to God, progress will always result from our trouble.

"All of these songs are crafted specifically to either minister healing into people's hearts through worship and celebration, or to call something greater into their lives," continues Carlson. "To be the people God's called them to be. To accept what God can do for and through them. Today. We don't have to wait around for some miracle to happen in our hearts. The miracle can happen now."

Sharing this message on the road, The Neverclaim continues building momentum, recently finishing a solid year of touring with Sanctus Real, The Rock & Worship Roadshow tour and numerous festivals and events like Walt Disney World's Night Of Joy.