Two New Songs Available Online From Dweeb
Last modified: 21 May 2009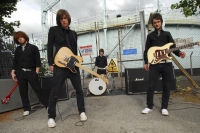 Dweeb have made available demo recordings of two new songs for fans to listen to online.
Blunt Incision
and
Give it a Rest
are destined for the bands new album, following up from their recent '
It Came From Outer Space
' release.
In a message to fans, Dweeb say:
"You may have noticed that [dweeb] have not been on the road as much this year as last. Well that's because we've been burrowing away... coming up with some new tunes for a future release. We've decided to put a couple of our demo recordings up online for your listening pleasure and to give you a little taste of what's to come."
To listen to the new tracks, visit the Dweeb
MySpace
or
Facebook
pages.
Dweeb will also be performing two shows in London next week:
24 May -
UNITED NOISE
- Fairfield Halls (Concert Hall), Park Lane, Croydon, London, CR9 1DG
30 May -
BEATS
- Tutu's, The Macadam Building, Surrey Street, London, WC2R 2NS