Nov 19 2012
Following the recent release of her new album 'Focus', Holly Starr talks to LTTM about crying out to God, being discovered on MySpace, and opening for LeAnn Rimes on tour.

You've been involved in music since a young age and were 'discovered' via the internet - how did that happen and how did you first get involved in making music?

I was very involved with the youth band at my church growing up. Through leading worship I discovered a desire to try writing songs! Those first songs found their way to MySpace, which were then discovered by my first producer, Brandon Bee. My story until today is one of God opening door after door in places I would least expect it, making a way were there seemed to be none again and again. If there is one thing I know, it is that I haven't been in charge from the very beginning, and I like it that way!

Tell us a little bit about your new album 'Focus' and what the inspiration behind it was?

I didn't realize that the last two years of my life was a time of me crying out to God for help to focus on Him in the midst of life getting busier and busier until after most of the songs for 'Focus' were written and I was able to look back over them and see that. The cry of my heart has always been to share Christ with people, but the best way to do that is through keeping my eyes zeroed in on Him and through my worship of God in my daily life, other's will get a taste of who God is. Keeping that 'Focus' is essential, though. If I don't have focus, then I will run dry and tired of sharing Christ with others. If I keep focus, then my well seems to keep a bit more full.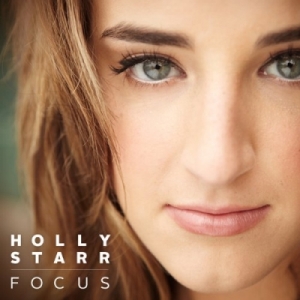 Which is your favourite track on the album and why?

"Focus" is definitely one of my favorites because of its message and where it puts you as you listen to it. The music really ushers the lyric well. Lyrically it really does express the season I have been in, so it means a lot to me. There is nothing I want to do more than direct my listeners' attention to God in the midst of whatever season!

What's your song writing process?

It varies a lot depending on the song. I co-write a lot however because it really gives an opportunity to join forces with someone who is gifted in writing as well. It's so neat to see what can happen with more than just myself trying to plug away at a song. It feels so parallel to the scripture that says "iron sharpens iron".

A few years back you opened for LeAnn Rimes, what was that opportunity like?

UNREAL! I was a senior in high school, so the thought of opening for her at that age was such a surreal opportunity and experience. It was humbling in every way, but a memory that out stands many simply because I experienced the grace of God so first-handedly that night. He gave me a peace that surpasses all understanding that night, so I was able to sing my heart out without fear. It was amazing!

How would you describe your style of music and what are your influences?

Acoustic-Pop perhaps? I love Shawn McDonald, Bebo Norman, Bethany Dillon, Brooke Fraser, with a little One Republic.

How would you define success in your career as a singer?

The singing is fun, but that's not why I'm in the music industry. I feel called to share Jesus, to talk about Him. I would have success if I wasn't able to sing but I was still able to talk about Him. I would NOT have success if I was able to sing and not talk about Him. So success for me is definitely Christ.



What advice would you give to any aspiring singers or songwriters out there?

Take every opportunity that comes your way (given that it is proven to be safe), but most importantly BE where you are. God will open the doors, just be faithful where He has you right now. Above all, don't worry. It doesn't get you anywhere faster.

You're stuck on an island, it's hot, you only have enough battery life left to listen to one song on your mp3 player. What track is it?

"Carbon Ribs" by John Mark McMillan - That song makes me weep, but puts me in awe of Christ over and over and over.

What does the next year hold for Holly Starr?

Well first I will be going to Israel on Christmas day with my Grandma Starr for a few weeks to introduce her (after being separated for 60 years) to her siblings, nieces and nephews that I was blessed to find and meet back in 2010 when I went there. Although it isn't a tour, I'm sure I will bust out the guitar to share some Jesus with my Jewish relatives. I can't WAIT! Other than that, I will be touring the west coast this fall for the release in October and then over the next year doing the same throughout the US.

Find out more at HollyStarrMusic.com