New Music Video From Dweeb For Single 'It's OK'
Last modified: 05 Apr 2010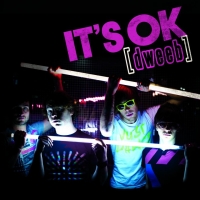 [dweeb]
have unveiled the official music video for their new single, '
It's OK
', taken from their forthcoming new album, '
Feels Like Dynamite
' which is released on 10th May 2010. The British rock band recently signed to Fierce! for this release which is the follow up to their first full-length album '
It Came From Outer Space!
' (2007).
A revised track listing (see below) and release date (now 10th May) have been issued for the album, ahead of it's official launch show at The Ultimate Event, held at the UK's Alton Towers theme park on 8th May. Following that show [dweeb] will undertake '
The Feels Like Dynamite Album Tour
' covering the UK plus some dates around Europe. The band will also be appearing at the UK's Spring Harvest conference this month.
'Feels Like Dynamite' Track Listing:
1 Feels Like Dynamite
2 Give It A Rest
3 Silence Is Golden
4 It's OK
5 Playing In The Snow
6 We Are The Ones
7 Blunt Incision
8 3D
9 Mountains Into Molehills
10 Upside Down