Julian Drive
Louder Than The Music have the following articles about Julian Drive:
Latest Article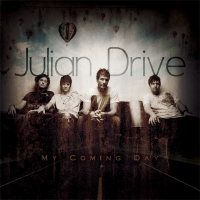 This is the first time I have heard of Julian Drive, but what a fantastic band, from the off this is a very complete album, with strong vocals, tight band structure and a full sounding album. My Coming Day is the first album from Julian Drive. Not many bands I have heard of would have produced an album of this quality, and sounding so powerful, for their first album. Julian Drive were the winners of the 2004 Exalting Him national Talent Search, something to tell your mother eh..!! From this album I will not be surprised if they really shine…
More...
More about Julian Drive:

There are no other articles currently available about Julian Drive, why not take a look at some of the other artists featured on the right?

Julian Drive Releases:


My Coming Day