Interview: Out Of The Ashes
Nov 23 2016
Out of the Ashes, a pioneering couple from Gloucestershire, have just released their new album 'Fears, Secrets & Lies'. The album features star contributions from the likes of Paul Jones (Manfred Mann/ BBC Radio 2 host) on harmonica, Josh Cana (Human League) on bass, and was produced by Andy Baker (Philippa Hanna). We spoke to singer Penny to find out more!

Tell us a little bit about this new album of yours?

The album is called Fear, Secrets and Lies. It contains fourteen tracks of which most fall into our favourite vein of Jazz, Blues and Rhythm & Blues with Gospel Roots. There are one or two surprises this time though. Also, in addition to our usual team of Jamie Parker on piano and Aron Bicskey on drums, we've enjoyed working with a few amazing guest artists such as the incomparable Paul Jones, Michael Davies, Max Restaino, Charlie Bunting and Josh Cana.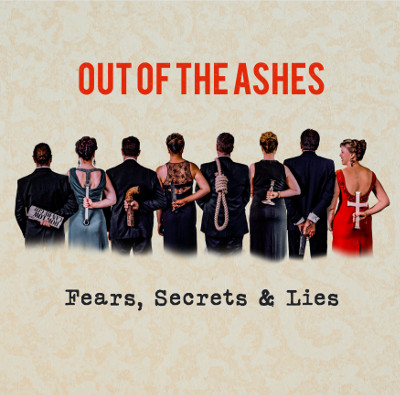 Which is your favourite track on the album and why?

A tough one that. I'm not great at naming favourites, because I find I'm inclined to change my mind from one minute to the next. I guess two contenders for the spot are 'A Good Place To Be' for sheer joyful singability, and 'Tipped off the Table' for groove and fun. All of the songs were written because of what God was showing us at the time though, so each of them becomes precious to us.

If you could work with any songwriter, who would it be and why?

Oh boy! I love writing with my husband, Kevin, so let's be clear on that one. I also loved working with Michael Davies on the songs we wrote together for this album. Truth is, I have no dreams beyond the generous people I wrote with here. Writing songs is deeply personal and takes a great deal of trust, because we're laying out unformed ideas for whoever we're working with; something that can feel very risky.

Do you prefer playing live or working in the studio?

Both are great.They are completely different things to do. Studio work would feel empty if we never got the chance to take our songs and stories out on the road to share with people. However, being on the road and meeting audiences would start to lose its edge if we never had new material to play. The sheer joy of both aspects of what we do is undeniable.



How would you describe your style of music and what are your influences?

Well… it's been said that our music tends to be quite eclectic, and I can't deny that we rather 'shoe-horn' it into our 'Jazz, R&B & Swing with Gospel Roots' strap line. Inevitably, our biggest influence by far, is our walk with Jesus Christ, who gives us new things to write about and new stories to tell, on an almost daily basis. But musically, when you get to Kevin's and my age, we have had a heck of a long time of great music to be influenced by. For me there are artists like the ones that came out of the Motown era, such as The Three Degrees, Al Green, The Isley Brothers, Michael Jackson to name but a very few; or we can step back a bit to Nat King Cole, Bing Crosby, Ella Fitzgerald. And then later on, we had Bowie, Roxy Music, Prince, Phil Collins, Tears for Fears. We've been steeped in them since childhood. All of them have a big impact on us.

How would you define success in your career?

People being encouraged by our music and stories. Yep… it really is as simple as that!

What is your favourite album of all time?

There is no absolute answer to this one. But one, among many, that for me has stood the test of time is Avalon by Roxy Music.

You're stuck on an island, it's hot, you only have enough battery life left to listen to one song on your mp3 player. What track is it?

What a Wonderful World by Louis Armstrong.

What does the next year hold for Out of The Ashes

We are touring The Netherlands in December before being part of a big Christmas Celebration at Gloucester Cathedral hosted by BBC Radio Gloucester, and have some festivals penned in and bookings at churches around the UK in the New Year and into 2017 …maybe even more tours abroad; but really that's totally in God's hands; and as the song says… 'That's a good, good place to be'.