Interview: Kim Walker-Smith - Jesus Culture
Feb 08 2016
LTTM caught up with worship leader Kim Walker-Smith to talk about the new Jesus Culture album Let It Echo, and find out why they recorded it live. Kim tells us a the stories behind the songs and why she loves what she does.

Tell us a little bit about Let It Echo?

Our hope and prayer is that through this album, people would encounter the joy of the Lord, find strength in His Presence, and be refreshed by the revelation of His goodness and kindness towards them. I would love to see more people be filled with the joy of the Lord. I think we need more of those songs in our worship times.

Which is your favorite track on the album and why?

It's hard to pick a favorite! The one that speaks to me the most right now is my song, "Alive in You". It best articulates the season of life I have been in. It has been a tough year and the Lord has taught me that even in the fire, He is there with me. I'm not alone and He will use the hard things to refine me and make me stronger and show His unwavering love towards me.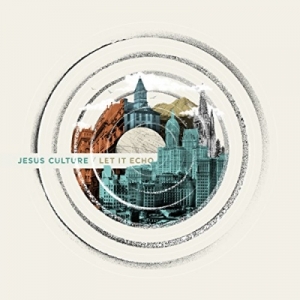 With this being the first album to be recorded live over several weeks in front of the Sacramento congregation, what were some of the pluses and minuses you noted about this new recording process?

The biggest plus was being able to try out the new songs with our community and see how they responded and how easily they did or didn't connect with the message of the song. For me personally, the hardest part was that it was recorded over such a long period and was very time consuming for me as a mom with 2 babies.

"In the River" is a powerful song. Can you speak to its origin and what it means to you?

Chris Quilala wrote this song with a couple other songwriters. They polled a group of pastors and asked them what kind of songs they wanted more of in their worship services. Unanimously they all said songs about joy.

That is why Chris wrote this song. I was thrilled when he asked me to sing it because I love singing songs about joy and I think we need a lot more of those. It's also an invitation to come and get strengthened through joy in the Presence of God.

Are there any specific stories you can share that influenced the songs on this new album?

We had 3 ladies (Chris Quilala's wife included) lose their babies, all within a month of each other. I lost my dad a few months later. It's hard to find God in the midst of so much grief and turmoil, but He is always right there. I love the line in Chris' song "Fierce" that says "Before I called, before I ever cried, You answered me, from where the thunder hides". Sometimes, we don't even have the strength to call out to Him, but He runs to be with us and lift us up above the pain. All of these songs have come from a deep place within in us and reflect what we have walked through with the Lord. They also reflect our resolution to never stop worshipping Him, never stop pursuing Him, and never stop believing in His goodness and kindness despite any hardship we face.



Are there any songs that you know of that were particularly challenging to write or record?

I think all of them can with a degree of challenge because we were so emotional! These songs are coming from a deep place and have a lot of meaning for us.

Tell us what it's like to have the opportunity to combine your passion for music with your love of Christ. And, how do you deal with the pressures from the business aspect of the music industry?

It's truly a blessing and an honor to do what we love and are gifted to do, with Jesus and for His Kingdom. I try to always keep that heart of gratitude. As far as the pressures, the hardest one for me is dealing with the pressure to travel, tour, etc. I have a 2 year old and a 1 year old and being on the road a ton doesn't work for us. So I'm learning how to balance all of that and not feel the pressure to have to be out there all the time. My first priority is to my family, not the music or the ministry.

Can you talk a little about your experience with Outcry 2015. And, are there additional tour plans in the works for 2016?

We loved getting to lead worship and share a stage with so many other worship leaders. It was a powerful experience to witness so many in worship and to see so many different denominations represented. We will be on OutCry Tour 2016.

Find out more at jesusculture.com