Featured Artist: Tenth Avenue North
Nov 03 2014
It was Spring 2000 when the original members of Tenth Avenue North were attending Palm Beach Atlantic University in West Palm Beach, Florida. Mike Donehey (vocals) and Brian Homan (bass guitar/backing vocals) had felt a calling in their lives to music. Brian introduced Mike to a drummer named Jason Jamison, and the three of them began creating music in their college dorm room under the band name "Fraggle Rock."

Not long after their beginnings, Tenth Avenue North was already being called to perform their first gig. A man named Andrew called Mike, asking if they could play at a cafe in the university. Agreeing, "Fraggle Rock" destroyed the place, and "souls were changed; lives were altered," (Quoted from Mike Donehey). Soon after, the band set out to play their second show at a student conference called "Student Venture."

Sometime after playing the conference, the members of Fraggle agreed to change their band name to "Tenth Avenue North", because "we couldn't think of anything better and that's where we lived," says Mike.

The next few years brought in many musical talents; numerous band members and guest members were brought in and out as more gigs were booked. Winning a local "Battle of the Bands" tournament, Tenth Avenue North proceeds to open the show for an upcoming Christian singer named Katy Hudson - now known commonly as superstar Katy Perry.

Following up their performance, the band was down to the original three, Mike, Jason, and Brian. Summer 2002 brought in Tenth's electric guitar player and second lead vocalist, Andrew Middleton. That Fall, the band headed out on their first musical tour, heading across the globe and, as Mike recalls it, "eating massive amounts of bologna."

In 2003, after a joint effort of raising money between the band members, Tenth Avenue North was able to record and release (independently) their first album, titled Don't Look Back. Soon after that, the band met their present road manager, Tim Combs. At this early stage in tenth's history, he ran lights, sound, transportation, and most other points of management.

Before they knew it, 2005 had come around, and Tenth Avenue North's second album, Speaking of Silence, was released. Shortly after the record was put out, Brian left the band to pursue a different career, leaving Tenth without a bass player. Seeking one of the substitutes who had helped fill in years before, Jeff Owen came into the picture. Eager to join the band, the talented young bass player changed his mind after just two days, and just as quickly as he had joined, Jeff had left the band. Seeking yet another bass player, Mike approached one of his friends named Scott Sanders. He agreed to play in Tenth Avenue North, and unlike Jeff, did not back out after two days.

Mike, Jason, Scott, Danny, and Andrew then began to step it up as 2006 rolled in; taking their musical career full time, the band began touring more often, booking more shows, and even landed a record deal. Sadly, it was later terminated as Jeff Owen came back to play electric guitar. Tenth Avenue North recorded their final independent release, God With Us EP. Danny and Andrew left the band, and the remaining members flew out to Nashville for one of the most important dates of the band's career.

Reunion Records, a branch of Sony Music, obviously saw something in the band that their previous record label (which technically wasn't their label) didn't. After recording a demo and signing to the label in September 2007, Over and Underneath was recorded and hit stores worldwide on May 20, 2008. The hit #1 singles "Love is Here" and "By Your Side" launched Tenth Avenue North to the top of the charts. The national promotional tour for Over and Underneath sold out shows and festivals, and Tenth Avenue North made their first ever appearance at the Christian Music Dove awards, winning 2009′s New Artist of the Year.

Scott Sanders, their bass player, left the band, leaving Mike, Jeff, and Jason to record their sequel album, The Light Meets the Dark. While he filled in for some bass on the record, the band didn't have an official bass player until late 2009, when Ruben Juarez III entered. Around this time, Brendon Shirley also joined in on keyboards (with the occasional guitar), and The Light Meets the Dark released on May 11, 2010. Peaking at #1 on US Christian Charts, the album succeeded Over and Underneath immensely, and the first few singles "Healing Begins", "You Are More", and "Strong Enough to Save" peaked high on the charts. That year won them the Dove awards' Song of the Year for "By Your Side." The band was nominated for 4 other Dove Awards around that time.

February 2011 brought the band back in the studio as they were busy writing songs and recording music for their next release, later revealed to be called The Struggle. Fans around the country had the chance to sing in the choir on the CD at select shows, and by early 2012, recording was complete. On August 21, 2012, The Struggle was released, debuting at #9 on the Billboard 200 and #1 on the Billboard Christian and Billboard Rock charts. The band toured the US in the Spring and Fall, promoting the album and visiting cities across the country.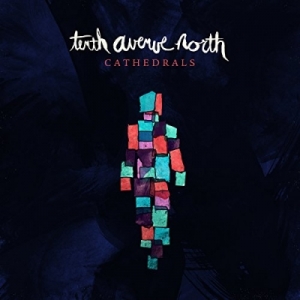 Tenth Avenue North are set to release their new album 'Cathedrals' this month. The 11 track album includes the single 'No Man Is An Island', plus a guest appearances from popular singer/songwriter Audrey Assad on 'Iesu, Dulcis Memoria'.

"After fourteen years of being in a band, fourteen years of writing songs, one thing we know; Songs are meant to be sung", explains the band.

John Dunn said "None of us are meant to carry our burdens alone. So as our song story continues we're hoping to remind you that you can get off your islands of isolation. Our prayer is that this next group of songs might help lift the shame that's led you there, that it might break the chains that kept you there, and that you're able to get in the boat of community and sail by the Stars of God's promises until you reach the shore for we are His Cathedrals."