Interview: Jonathan Geoffrey Dean
Nov 18 2022
Jonathan Geoffrey Dean is a New Testament scholar, researcher and author of the book 'Salt & Light; The Complete Jesus'. This highly acclaimed and multiple gold award-winning book has been described as "the most crucial advance in understanding the Historical Jesus in the last 30 years"! Louder Than The Music asked Jonathan how the book came about, and his battle to get it published.

Tell us about your book 'Salt & Light' and what the inspiration behind it was?

I initially started by asking a simple question; "What are the facts about Jesus?" This should be an easy question to answer, I thought. But as it turns out, and as I detail in the Salt & Light, the topic is so confusing and so charged I could not get a straight answer. I became somewhat frustrated and said to myself, "how hard can this be? This isn't a proof of Fermat's Last Theorem." So, I started my own search for answers. All of the primary material is available. In my directed reading on the topic, both academic and popular, I covered a lot(!) of exciting material that I thought others probably did not know and would find fascinating, for instance, the recent discovery and analysis of the Sudarium of Oviedo.

What made you decide to write this book?

At first, I resolved to create a position paper on Jesus summarizing what I had found, offering a most probable and reasonable summary of Jesus for myself and other curious people.

I then latched onto the idea of a blog where I could systematically build the structure of my arguments in a linear form. After hitting over 100 draft blog entries, I found the sequencing problematic. As a result, I pulled all of the text into a document to re-organize it; that is when it hit me- this should be a book! And then things spiralled from there. That was three years ago, with the content being 98% complete after about two years. I never wanted to be an author, but here I am. Once I had finished the manuscript, I then started to ask, "what do I do now?" I have spent the last year dealing with the publishing industry on many fronts.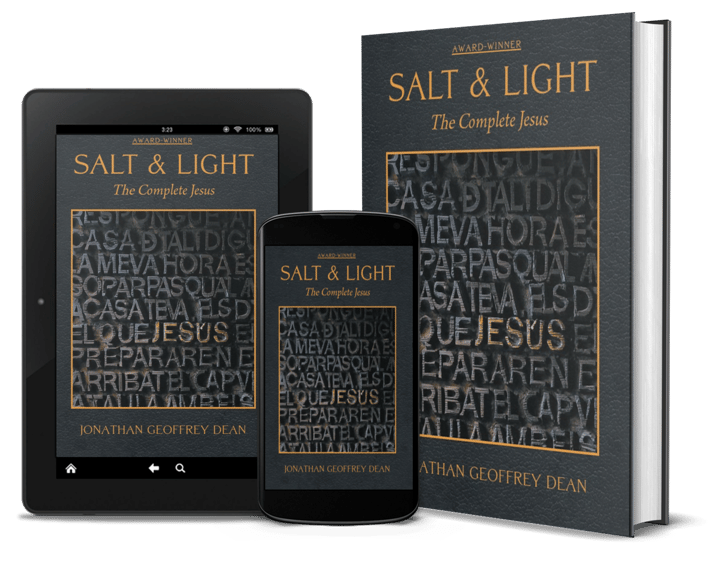 What is the biggest challenge you've faced as a writer?

The publishing industry as a whole. Salt & Light's topic seems not to be an "in vogue" topic. All of the rejections I received, I believe, came due to pre-conceived beliefs about my genre/topic ("Oh, that is not a topic I am interested in." or "I am not into formal religion.") and not from the potential of the book or quality of the product, and that was disappointing. Disappointing since Salt & Light defies these prejudices, it is not what it appears - anyone should find the book exciting and worthwhile. Salt & Light will have a broad audience.

What message would you like people to take from the book?

I hope readers become much better informed about Jesus of Nazareth, the most influential person in history. Salt & Light essentially serves up everything we can know about him. I would go so far as to say that if you were to read only one book on this topic - it would be Salt & Light.

What is your favorite album of all time?

A few actually
Bach, J S: Mass in B minor, BWV232 Archiv 2006 by Gardiner
Bach The St. John Passion Decca 1995 by Britten
The Soundtrack to The Last Temptation of Christ by Peter Gabriel
And probably Gavin Bryars With Tom Waits ‎- Jesus' Blood Never Failed Me Yet (not for everyone!)

You're stuck on an island, it's hot, you only have enough battery life left to listen to one song on your phone. What track is it?

The arrangement of "Nunc dimittis" ("Lord, now lettest thou thy servant depart in peace") from the Book of Common Prayer (1662), composed by Geoffrey Burgon Decca The King's Collection

What does the next year hold for you?

Salt & Light is at least a two or three-book series. Having answered the questions about who Jesus was and what he did and said, the next step is to produce a companion volume I call Salt & Light; The Gospel of Jesus, a single, convenient document containing a complete account of his life. Then the next step is to elaborate on the implications of his teaching for us and our world today.

Find out more about Jonathan and his book 'Salt & Light' at: saltandlight.ca