Blog: Big Church Day Out 2016: Day One
Jun 09 2016

LTTM reporter Kevin Button gives his views of Day One of this year's Big Church Day Out...

(With thanks to Maresa Smith and BCDO for the photos)

The Big Church Day Out is an annual event focussed on gathering the church. Essentially a music festival with many other exciting things to be a part of, I have found myself attending the event four times. Not only does the Big Church Day Out provide some incredible artists and bands to see, the festival also has a passion for the people attending, that they would encounter God throughout their time spent there.

Each year I have attended, I have found myself overwhelmed with the sense of community and interestingly the intimacy the festival brings despite it hosting up to 20,000 people. This year was as good as ever with a fantastic mixture of artists, many who have not played BCDO before and some who haven't even been to the UK before.

It is good to note that the festival is growing every year which means more stages and more things to see yet also things to miss so this is only my unique experience of the event whereas if you were to ask someone else for their review, I am sure it would look very different depending on what they chose to attend.

So here is my review of the couple of days, the hope is to capture through words the experience of what BCDO brings whilst as also trying to seek the thing behind the thing.

John Mark McMillan



My first artist of the weekend was non other than John Mark McMillan himself. Coming all the way from North Carolina, John would be the first of many brilliant American artists featured this year at BCDO.

Opening with Guns / Napoleon, John and his band certainly grab the attention of those who are still sunbathing on their blankets in the now appearing warm sun. Though the sound was a little messy, it soon improved as we were reaching the peak of this opening rocker.

The first challenging statement of the day also came during this point where John announced "Love is sacrifice, love is dying, it is the hardest thing you will ever do but my friends, it's a better way of living that what we are now".

Continuing the theme of drop D accessible rock, John and his band storm into 'Borderlands' where the tone of the lead guitarist cuts through everything like a sword on a mission.

What stands out to me is how John carries himself. He has such a humorous charm about him yet he plays some pretty aggressive stuff complete with powerful, though provoking lyrics. And his sound certainly carries something set apart from that generic worship sound we know and love, particular in his song 'Skeleton Bones' where the sound of resurrection was played over the people, its a beautiful thing to witness and be a part of.

John later continues 'Life is worth sharing. Life is nothing without sharing it with people. Everything that is great has to have a voice. All good music is spiritual, Worship is a spiritual sound'. Quite clearly this is more than just a performance, John is passionate to wake up souls, that they might fix their gaze upon the life of which is Jesus Christ.

By the time John and his band lead us in 'Future/past', the field has become busier and people are engaged as we hear the sound of the corporate voice match the sound of John and his band. What a brilliant start to the event!

Mike Farris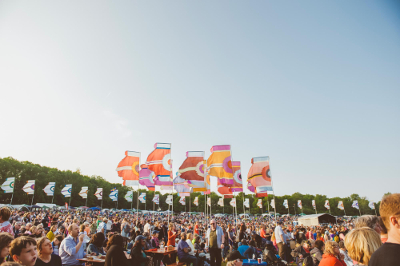 Next up was something a little different though only that bit more American. Grammy award winning Mike Farris! Unfortunately as his band explosively kicked into gear, I found myself queuing for ice cream as by now there was not a cloud in sight and the sun was beginning to blaze. Nevertheless the sound of Gospel Blues rock travelled across the field and found me in the queue struggling not to make some sort of physical energetic response.

Not afraid to mix up the styles, his set had elements of bluegrass, funk, jazz and big band. The Brass section was a nice touch too though little did I know this would only be the start of unconventional instruments at this years festival. Mike was a Great front man. One minute he would be shredding it up on the guitar and the next screaming his iconic bluesy grow as he encourages people to get up and dance with him. Another stand out instrument would surely have to be the organist, who's melodies sounded so American it almost felt like we were transport to Nashville itself.

After a few energetic opening numbers, Mike shouts "We're from Nashville Tennessee and this is how we do church!" to a response of thunderous applause.

Stand by me made its second appearance of the day after John Mark McMillians snippet during 'heart won't stop'. This time though it was just Mike and the voice of the crowd, a heart warming singalong.

The first extensive dancing of the day came during a cover of Stevie Wonders Signed sealed, delivered which was followed up by a colossal finish of 'The Lord Will Make A Way Somehow and a snippet of Uptown Funk before ending on a incredibly catchy song Called Hold On. It was a perfect finisher to his set and I had it going around my head all day.

King and Country

King and Country were the surprise of the day for me, I had little expectations for this band who I really did not know much about but they brought themselves and more to the 55mins slot. Still I was certainly in the minority for the reception they recieved was by far the biggest of the day.

Known as a Christian pop duo, Joel and Luke Smallbone originally from Australia, now also residing in Nashville Tennessee brought with them a company of multi talented musicians who were more than up for the task of putting on a live show to remember.

This live show however was not without fault for the band were announced too soon by Pete Greig when it seemed like the band still had another ten instruments to check before they were ready. In fact the situation turned a little awkward when Pete was trying to entertain the crowd with a little karaoke which included Bon Jovi, Abba and the Proclaimers yet the bands guitarist looked incredibly confused and annoyed that this was going on while they were trying to fix the issues that were preventing them from playing.

Still, no wonder it took so long to soundcheck for band had many many instruments to use during their set which included two set up of drums, another 4 kick drums, portable snare drums, multiple keyboards, brass instruments and a /string quartet. If I were their sound engineer, I would certainly of felt the pressure trying to mix together all of that.

Yet once the band were finally ready to go, go they did! The energy the band brought despite a late start was on a whole new level. It was truly mesmerising to watch as the band swapped instruments continuously throughout songs and the brothers doubled lead vocal duty. The songs despite being covered in many performance gimmicks held their own too, they were catchy yet once against had boldness to them.

Just when we thought we had seen it all, the band chose to completely leave the main stage and walk through the crowd to arrive at the sound desk which they renamed for the next 5mins "the B stage". It was here we found more instruments which included an electric drum pad and more portable drums.

Attached to the sound desk was the viewing platform for the disabled and seeing the band interact with them was a beautiful sight to behold. The band truly made their day as they encouraged them to singing along with those classic 'woahs'.

The finale for the band was a song dear to their hearts. The song was called priceless which rage war against our current culture that views women as objects. It was a song that hit the fan hard for it spoke two connotations, both the true identity which women should be standing in but also how men themselves should stand up against this for it starts with us. Finally, putting all the drums to use at once, their incredible performance ended with a huge wall of drums before they left the stage to an awestruck crowd.

TobyMac

How do you follow that!? You get one of the biggest and the best Christian Hip Hop artists in our time of course. TobyMac known for being one third of DC Talk whilst also being a remarkably successful solo artist is here and in style.

Opening with Til The Day I Die, Toby jumps onto stage placing a gigantic flag in the ground as if he were stating "This is the Lords territory!". This statement increased towards the end of the song where his back up dancers and singers grabbed a couple of flags too and joined in the declaration. It looked awesome. Next up was title track 'This Is Not A Test' and it is here I noticed that these songs sound massive live! There was a huge energy to them, one which is different to how the songs sound on his album, the sound live, actually more reminiscent of his earlier material such as Diverse City. It works!

Toby brought the swag and the tunes. He absolutely owned the stage, I would go as far to call him a Christian Justin Timberlake. He even pulled off some dance moves that if anyone else would try, they simply would not be able to pull them off.

His first words of the day were "wow you guys have grown since the last time we were here, there's about five times more people" matched with a cheeky grin. He certainly came across happy to be back in the UK.

Once again the Musicianship on display here really is world class and it displays something much deeper than that. The whole band are locked in and unified with one another as they play some of Toby's most popular tracks. Take the music and then apply some clever choreography and bring in some guest vocalists on 'Backseat Driver' and 'Lights Shine Bright' and you have a superb show!

For me 'Eye on it' and 'Funky Jesus Music' have to be my highlights for they just produced so much energy in the crowd, Toby even deemed it appropriate to dance around with a cane during one of them, looking not far from Willy Wonka.

We even got some really old stuff such as 'Catchafire (Whoopsi-Daisy)' however this never quite felt like it reached its peak. Perhaps it was because he got the crowd to go down low and we never quite got up again or they actually cut it short to allow for more songs, but it just never quite hit that final drop where you just knew people would go crazy. This little slip however did not detract from the overall performance which has to be one of my favourites of the weekend.

Also this was certainly the day of drums for even Toby found a place for a quick drum off towards the end of the set, fantastic!

Jesus Culture

As the sun began to set, it was time for people to gather as activities from around the site were beginning to come to a close. Now was the time for us to come together and worship and what better way than inviting Jesus Culture back after last year! It did however feel a little strange that Jesus Culture closed the event last year and now they are here again, this time playing a shorter set earlier in the day. However I think it is clear artists like Jesus Culture aren't here to get the best slot time but to simply lead people in worship.

Despite once again being announced too early as they were still sound checking, we were soon off with Kim Walker leading us through three songs from 'let It Echo' their newest album.

On reflection I am not sure this was the bands wisest decision since the majority of people in the field clearly were not familiar with the songs and considering they had only an hour to lead us, it felt strange they would play so many new songs.

It wasn't until Bryan Torwalt led us in 'Holy Spirit' that people were rightly or wrongly able to engage and partner with the leadership of the band. This was followed up by 'King of My Heart' led by Bryan's wife, Katie. The sound of her voice declaring 'you are good' over and over again and seeing people coming alongside this declaration once again reminded me of the power of the church being united. There were people praying and singing out their own words as they interacted with lines such as 'Let the king of my heart be the shadow where I hide, the ransom for my life' and the repetition of 'You're never gonna let me down'.

Kim once again took up lead vocals and led us in 'Show me your Glory' which again didn't seem to resonate with people. That is until Kim passionately prayed and reminded us this is a God who requires relationship, the same powerful God who created this world wants to dwell within each one of us and walk with us. She cried out to a slightly perplexed crowd, one perhaps sitting too much in a culture of British self consciousness. She encouraged revelation and a new desire of pursuit from people which turned into everyone praying for each other. This was followed by a refrain of 'Show Me Your Glory', this time with a strengthened sound. Finally Jesus Culture finished what felt too soon with 'How He Loves Us' which John Mark McMillan joined them for.

Overall they were very different to last year when they lead and it felt like there were too many new songs for people to engage with but still great musicianship was on display and they certainly shared their hearts and passion for people to simply step forward and worship their father.

Tim Hughes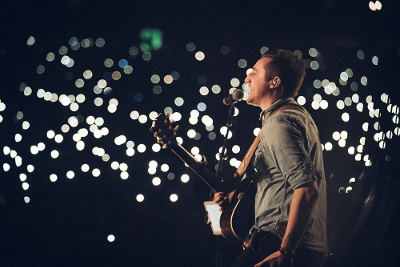 The evening finished with Tim Hughes, this year just billed as Tim Hughes as opposed to Worship Central despite it actually being Worship Central but that is me being picky.

Beginning his set with Let It Be Known and Happy Day, it was again a wonderful sight to behold as 20,000 people came together to worship. By this point the hill in front of the stage was full from top to bottom of people.

Luke Hellebronth then led us in 'Spirit Break Out' and this song has taken many variations throughout the years but tonight it sounded raw and huge, a very powerful sound and some interesting chord choices which really brought the song to a whole new impactful level.

The night continued as Tim, Luke and the band led the people at BCDO into revelations of who God is. One theme that I began to pick up on was Gods love, witnessing people receive new understanding of how constant and unconditional his Grace and love is for his us.


Tim's Leadership has really stepped up. The way he carries himself and speaks is really sensitive to his audience, as well as his choice of songs. He even put his guitar down a few times to speak/sing. He also let us in part of his journey with God over the last year of how he and Rachel (Hughes) have planted a church and its been one of the scariest yet exhilarating years of their lives. You could really see how God has moved Tim from Strength to strength through that process.

A Highlight would have to be Tim's own song 'Hope And Glory' which included the 'that's my king video' and what a response this song got! Christ is the hope of the world, he is our hope and we choose to stand in him for he is our strength, he is where our help comes from and in case we don't know who this Christ is, the amazing video showed us and gave us context, a new place to sing from! This was followed by 'Here I am to worship' which despite being his most popular song is a rare one I have seen led by Tim himself.

By this point in the evening there was a Powerful, united sound coming from the grounds of Wiston house. The title track 'Pocketful of faith' was next which was a very special moment at BCDO this year and this song certainly holds a place close to my heart. Tim once again did a great job of giving context in how we should sing it and who God is within it before Pete Greg came and led an alter call. This is always a highlight for BCDO as we see people raising their hands in front of thousands of people declaring 'I give you my life Jesus'. And it is so awesome that at what is solely a music festival we see God using this event to speak transforming truths into the hearts of his people.

The evening finished with Worship Centrals new version of 'This Little Light' which I wasn't a huge fan of stylistically but we were celebrating our brothers and sisters meeting with Christ for the first time! We were celebrating the truth that we are made to be lights shining in the darkness so how could I not partner with that? The final song of day One was 'The Way' which continued the celebratory sound. A great sight to behold as people joyfully partnered with this awesome testament of Gods speaking.

After Hours:

Since I was a camper, this gave me access to the after hours events BCDO hosts. I managed to catch two on this evening. The first was Phil Wickham live at the campfire who led us in 'This is Amazing Grace, You're Beautiful, Lean On Me and I Could Sing Of Your Love Forever'. Short but sweet and beautiful.

After Phil finished his singalong, I walked towards the back of Wiston house to the tea tent where once again I found Mike Farris performing the second half of his electric set. He was most certainly in his element on a smaller stage and played a charming version of 'You make a way' as well as a surprising rendition of a Prince song which Mike warned us we will have "no idea what the song is". Some of what was played was reminiscent of his set earlier on in the day including closer hold on which went on for a good 15mins! People just didn't want to leave. It was a Great atmosphere in the tea tent but it had to end at some point.

And there we have my experience of Day One at BCDO!