Mar 07 2016
We caught up with worship leader Noel Robinson as he prepared for the international release of his album Outrageous Love. Noel tells us about his eclectic musical influences and why he's excited to reach out to US audiences.

The new album Outrageous Love has been out a while in the UK. Tell us a bit about it?

The Album is a collection of songs that we hope will find resonance with worshippers around the world it covers many themes raging from mission to adoration it tells my story of God's Outrageous Love to us all! It's outrageous that he didn't give up on us even though many of us gave up on ourselves but his Love for us was so overwhelming relentless it broke through and reached down to rescue us. When you have experienced the outrageous love of the father your personal worship is full of passion. We are so excited about all the testimonies that are coming in as folks have listened to this project.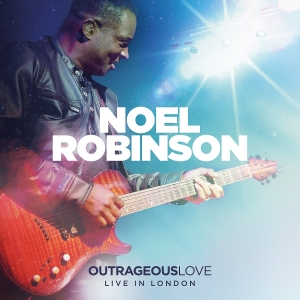 Which is your favourite track on the album and why?

There are so many tracks that speak to me, one in particular 'You give me Life' seems to effect me in a deeper place. It's like a conversation I have with God that turns into this place of surrender and Devotion!

Are you excited about the album being released in the US?

Yes I am very excited about the US release of the album. When you have been on the journey I have and just trusted God for every moment, to be signed by Integrity Music is a big deal and to be intentionally distributed as a physical copy across the US & North America in all the stores is a huge deal for me. I feel it's a God moment for me..

If you could work with any songwriter, who would it be and why?

It's such a difficult one because I have a big list of artist that have inspired me in there writings and all of them have a unique way of looking and interpreting the object of our worship Jesus! The why because It's an amazing experience to collaborate and put your experience together it produces an different amalgamation of thoughts every time. On 'Outrageous Love' writing with Israel Houghton was organic

Do you prefer playing live or working in the studio?

They both have special attributes to them we still have a organic approach to our studio productions very much it's about allowing musicians that we bring to the project or song to breath something of themselves into the song and arrangement. Live recordings works the same way after arranging we tend to intentionally leave a unspoken place or space of expression that allows the spirit of God to stir our creativity through every note and beat in the music! Basically We feel it!

How would you describe your style of music and what are your influences?

It's very eclectic it's a bit of everything I think, being British and of Caribbean descent but exposed to all sorts of music I have taken from all different musical influences to create the soundscapes to the songs I play! Most folks think the stereotype 'Gospel' sound but I thought what would happen if we mixed the past Rock, pop and even folk with the present what soundscape could we create. Could we be inclusive with our soundscape? I would encourage you to listen to all the album not just the first 3 tracks lol



What is your favorite album of all time?

There have been albums that have been influential in my development as a person not just musically but content wise and they all have impacted me.

Again it difficult being a musician who studied music from classical baroque to contemporary pop to be specific about album.

You're stuck on an island, it's hot, you only have enough battery life left to listen to one song on your mp3 player. What track is it?

This is not fair lol but I love Matt Redmans

'When the music fades' it does something to me.

What does the next year hold for Noel Robinson?

We are excited about what God has done, with me joining the ranks of Integrity music and it certainly gives me an opportunity to expand territory and bring my heart and content to a greater audience. We will be touring in UK, Europe, Africa and US regions.

We are doing the Renewal London Worship Encounter, The Proms 2016 at the Royal Albert Hall and many events around the UK

I want to be all that God has called me to be in this generation to serve the church with all I have!