Interview: Dave Bilbrough (Free Song Download!)
Jul 13 2015


As one of the 'fathers' of the modern day worship scene Dave Bilbrough has written songs that have been sung all around the world in worship to God. He continues to write and travel extensively with his songs and music.

Dave's latest album, 'The Song That I Sing' will be launched on 10th September. To catch a flavour, Louder than the Music are pleased to present this 'free download' (see right) of the title track as a special preview which also features Cathy Burton on guest vocals.

We caught up with him recently to talk about this exciting release...

You've been making albums since 1978. What led you to write your first ever worship song all those years ago?

The first worship song I wrote, Abba Father, came out of an encounter with God. It pointed me towards the really important aspect that we sometimes lose sight of - God is our Father; that's who Jesus came to show us. It's a truth that is so profound and yet so simple and it breaks through all cultural and educational barriers.

What makes this album different from all others?

I've tried to put into music and words something of where I am in my stage of life. These are songs of Grace, but also songs that question; addressing some of the doubts and fears that I'm sure we all experience. It's also the first time I've focused on the use of brass on a record. We originally set out to keep the arrangements stripped back to allow the honesty of voice and guitar to come through. As the album developed and grew it felt right to bring in the grandeur of brass and strings to do justice to some of the bigger modern-hymn-like melodies. There's a timelessness to the sound which I am really proud of. The album was produced by my eldest son Jon with Dan, my other son, playing drums, which also made the sessions a lot of fun.

What would you say are some of the core themes of the album?

What grace really means. Our identity in Christ; that we respond not out of coercion but willingly because we are learning to trust our heavenly Father. There's a great deal about our inheritance, our destiny or where we're going, and I hope, a sense of vulnerability as I want my faith to be real.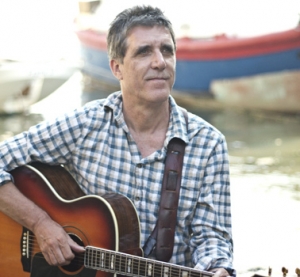 You've decided to release a single from the album for free. How does this approach differ from when you first began making music?

Its funny, back in the day a single track on a floppy plastic compilation album attached to the front of a Christian magazine would often be the way of promoting an album release. Whilst obviously a lot more sophisticated in a digital format it's almost as if that time has come around again! A free download like this is a great way of sharing my music to an audience outside of my usual reach.

Who are your personal musical heroes?

Bob Dylan, Joni Mitchell... Van Morrison, who I recently saw in concert, is so fluid in his interpretation of his songs and somehow in the act of vulnerability acts as a lightning conductor to those assembled to hear. It's people who sing truth that lift me up. This coupled with strong lyrics and strong melody never fails to win me over.

What advice would you give to people who are just starting out in music?

Be authentic to who you are. Sure, allow yourself to be inspired by others but don't become a photocopy of a photocopy. With humility and a serving heart develop the gifts and calling God has for you.

Find out more at davebilbrough.com