Featured Artist: Matt Redman
Jun 01 2015
Matt Redman is a British Christian worship leader and songwriter, and was one of the main worship leaders associated with the Soul Survivor organisation. He is now working with a church plant in Brighton, England. His latest Church was opened late in 2006 at St. Paul's Catholic College in Burgess Hill. He also works with Passion Conferences and an artist for Survivor Records (Six Steps Records in the US).

He appeared with Hillsong London for a song on their latest album 'Jesus Is'; he co-wrote and sung the song 'Greatest Gift'. Many Contemporary Christian music artists such as Michael W. Smith, Rebecca St. James, David Crowder Band, and Tree63 have covered a number of Redman's songs. Some of his most popular songs include 'Heart Of Worship', 'Let Everything That Has Breath', 'Once Again', 'Undignified' and the 2005 Dove Award-winning 'Blessed Be Your Name' (Worship Song of the Year).

Matt started out leading worship at a young age at St Andrew's, Chorleywood, moving to help start up Soul Survivor alongside Mike Pilavachi. He was formerly the worship leader for Soul Survivor church in Watford and led worship at the annual Soul Survivor youth conferences. According to founder Mike Pilavachi, the Soul Survivor festivals (which began in 1993) grew out of worship sessions with him and the then 15-year-old Redman.

He has authored and edited multiple books on Christian worship, including 'The Unquenchable Worshipper' and the book 'Facedown' which accompanied the album of the same name.

Matt is currently based near Brighton, England, where he lives with his wife Beth (formerly of the World Wide Message Tribe) and three children: Maisey, Noah and Rocco.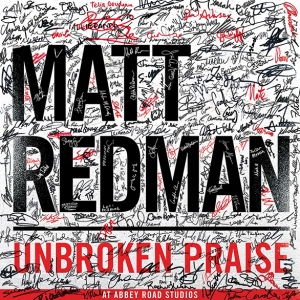 He explains his mission through his music, "I've made it my aim in life to amplify, multiply and exemplify. What I mean by that is I want my music to make loud God's praise, I want to be involved in helping others do the same, and I want to somehow be a shining example of His worship every day."

Now Matt Redman will release his new album 'Unbroken Praise' this month. The album was recorded live at London's famous Abbey Road Studios in February.

"So happy to announce my new album, 'Unbroken Praise', being released this June", revealed Redman on his website. "Recorded live at Abbey Road. And there's a good story behind this artwork - more details soon!"

Following two of the bestselling albums of his career, 'Your Grace Finds Me' (2013) and '10,000 Reasons' (2011), Redman returns with another new album featuring all new worship songs.