Featured Artist: Third Day
Mar 02 2015

Third Day was founded by lead singer Mac Powell, guitarist Mark Lee, bass player Tai Anderson and drummer David Carr in the early 90s. The original band also included former member Billy Wilkins who left the band back in 1993. During 1995 guitarist Brad Avery joined the band. In those early years the band produced and recorded all of their albums independently, but it wasn't until 1996 when they signed to Reunion Records did the band release their first official release of the self titled album Third Day.

The album Third Day sold over 300,000 copies and was well received by critics, the album also yielded the bands only mainstream hit in 'Nothing At All' which charted at number 34 in the Billboard rock chart. If things couldn't get any better during this time for the band, popular band Newsboys asked Third Day to open five of their shows around the West Coast which then led to their own tour of over 65 cities. To help Third Day tour, two bands called All Star United and Seven Day Jesus opened for them.

The winter of 1997 was the time the band started working on their second album Conspiracy No 5 which was produced by Sam Taylor. This album went on to be nominated for a Grammy and won Dove Awards for Rock Album of The Year and Rock Song of The Year.

In 1998 the albums came thick and fast, first out was Time which was again nominated for a Grammy and won another Dove Award. Some songs were left off that project and then released as a B side album called Southern Tracks. Third Day then quickly recorded their next album in a week and named it Offerings: A Worship Album, what followed from that was a big tour with Jennifer Knapp and gigs in Australia and New Zealand.



Between 2001 and 2003 the band kept touring, winning awards and releasing albums, they released their first live DVD The Offerings Experience, won five Dove Awards as well as their first Grammy, then went on to release Come Together and record Offerings II: All I Have To Give.

The band toured the States with TobyMac and Warren Barfield after their 2004 release Wire which again was received well in the Christian Music press. After touring Europe for two weeks the band recorded a concert in Louisville which then became their next project called Live Wire.

Moving on again a few years their next album Wherever You Are debuted on the Billboard 200 at number 8, this also won the band their third Grammy. 2008 saw the release of their next studio album Revelation. Soon to come was sad news for the band, guitarist Brad Avery departed the band after 13 years and over 1000 concerts with the band. The release of the first single Call My Name from Revelation gave the band the opportunity to appear on The Tonight Show with Jay Leno and also Late Late Show With Craig Ferguson. Live Revelation then followed as a live CD/DVD in April 2009.

In 2010 the band geared up to release their latest project Move, which we were very excited about at Louder Than The Music. The band can't stop touring, which they have done non-stop during their career and they will feature on the Winter Jam 2010 tour with Newsboys, Fireflight, Tenth Avenue North and others.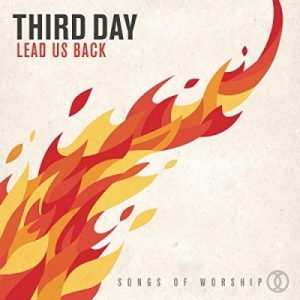 Now the band will release their first new worship album in more than a decade. 'Lead Us Back', is to be released in March, and also includes a deluxe version, with an additional disc of 10 fan favorites from Third Day, captured live on the road from their previous sold-out tour performances.

This is the third worship recording that the multi-Platinum rock band will have released since the group made their mark on the music industry in 1996 with their self-titled debut, which was certified Gold by the RIAA.

Says vocalist Mac Powell, "We've wanted to do a worship album for quite a while but have been waiting for the right time. NOW is that time! I believe this is the best batch of songs that we have ever recorded!"

Bass player Tai Anderson adds, "'Lead Us Back' is a call to worship not just for our audience but the band as well. Why now? We're ready for these songs. We're ready to feel God's spirit fall afresh on all of us again."

The group's previous worship albums, 'Offerings - A Worship Album' in 2000 and 'Offerings II - All I Have To Give' in 2003, have been the two biggest selling albums of the band's career to date. "I think the essence of THIRD DAY music," says drummer David Carr, "has always had a thread of worship to it, whether we've classified an album as worship or not. Though we are confident in the direction we took on previous albums, we felt it was time for us to revisit the emotion and heart that comes through when the songs are unabashedly directed to God."

Third Day are an amazing long standing band and our Artist of The Month.