Blog: Big Church Night In Tour - Rend Collective & Phil Wickham
Nov 19 2014
LTTM's Jono reports from Swansea on the Big Church Night In ten-date UK tour, with popular Northern Ireland worship band Rend Collective and US worship leader Phil Wickham.

What better way than to spend a cold winter's evening than with a bunch of friends worshipping God.

That's what I decided to do when I headed to the Big Church Night In tour down in Swansea. Leading the evening was Phil Wickham and Rend Collective, both fantastic artists, and ones I was excited to hear live.

After the eventful hour-long trip from Cardiff to Swansea, we arrived as the queue snaked around the building. With the Swansea air leaving everyone a little bit on the cold side, it was great to get inside the packed venue, which was already heating up.

After introductions into what Big Church Day Out was all about, by Olly & Tim, Phil Wickham was soon on stage and raring to go.

As Phil didn't have a backing band, it was left up to himself and an acoustic guitar to lead people in worship. And what a sound he managed to produce. Hi picked many songs from his last two albums, The Ascension and Response, to play this evening, but it was his two most well known songs that got every single person in the room joining together. The noise from where I was stood during At Your Name and You're Beautiful was phenomenal. Phil ended his collection of songs with a great celebratory song that seem to bring the whole room together.

The evening had a great flow to it, quickly on stage was Patrick from the Rend Collective to share about the work of Compassion - if you don't know much about Compassion please check them out.

After a few stage movements we were ready for the Rend Collective to take the stage. And with a bang the guys managed to kick things off. Opening with Joy from their latest album The Art of Celebration, confetti filled the room, which just seemed to add to the celebratory feeling already in the room. The band elected to play many songs from their latest offering, which for me seemed to work better live. The whole concept of celebrating together as one family with joy in our hearts seems to work so much better when you're with church family together.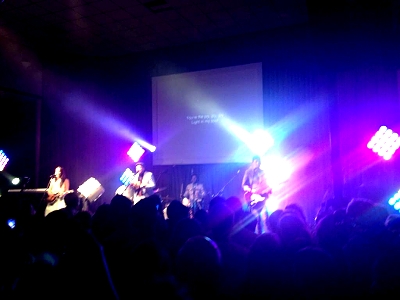 The quality of the musicianship from the band was fantastic, not only is there the obvious drums, bass, and acoustic guitars, but also getting an airing was the banjo, mandolin, accordion, jingling jonny, I want to say penny whistle but I'm probably wrong, so let's just say wind instruments. The band swapped instruments, they swapped who was leading, they seemed like a family who just didn't care who did what, but they led people closer to God with songs about Joy, The Cross, His strength in hard times and His Grace.

Another songs that got an airing last night was the brilliant Praise Like Fireworks, this one of the few songs I hadn't heard the band lead live before, but it was well worth hearing. The guitar work by Patrick was amazing, his guitar had a lovely tone and he played it fantastically.

My only disappointment was the fact the band never played You Bled, this song means a lot to me personally, but of course the evening is not about me, and I soon got over it once they kicked into the brilliant More Than Conquerors, another fantastic song from their latest album.

The band left the stage to thunderous applause and reappeared with little lights to lead us all with a stripped down version of the amazing song Simplicity. Taking everything back to simply being one with God was a fantastic way to end the evening after all the jumping and dancing that had gone before.

It's hard to sum up an evening like that in a few words. Thank you to the Big Church Day Out team that brought this event to Swansea and thank you to Phil and Rend for leading us in some amazing songs to God. It goes without saying that if you can get to next year's Big Church Day Out in May then I'm sure you will enjoy it as this line up is looking brilliant, please look into it via their website. What I took from this evening was that it is good to always be Joyful, God wants us to be happy and excited in our walk with Him and as one band once sang "You're the Joy, Joy, Joy, making me whole" and that's the best way to look at life.