Feb 11 2013
It's been a time of change for Hawk Nelson. The pop-punk band's front man recently left, and guitarist Jonathan Steingard took over the role of lead vocalist ahead of their forthcoming new album 'Made'. We caught up with the new lead singer to find out about the album and how the band have coped with the recent changes.

Tell us a little bit about your new album 'Made' and what the inspiration behind it was?

The idea for the album name came from a song on the record, also called Made. That song explores the idea that each of us was intentionally fashioned by a God who is so huge as to create the whole universe, but so personal as to create each of us with purpose, knowing everything about is.

That kinda blows my mind every time I talk about it. We feel like it's been a huge part of the last year for us as a band... as we can't help but feel like God has brought us together in this band with a purpose. The idea that we (each of us individually, and for Hawk Nelson as a band also) didn't just HAPPEN, but we were created with this kind of love and intention brings purpose to our lives... to point back to the Creator with everything we have.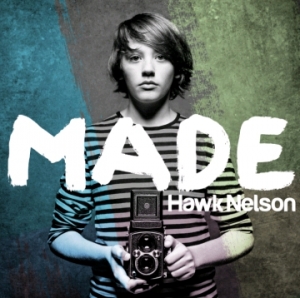 Which is your favourite track on the album and why?

I have a few favs, so picking is hard.... I think 'A Million Miles Away' is the funnest song on the record - love jamming that one out. I think 'Fighting For' is the most musically interesting and quirky song HN has ever done, so that's a favorite too... but overall I'd have to say Faithful.

This is a song that I wrote early in the writing process for this record. We knew that God was leading us to continue as a band without Jason, and that kind of terrified me. We didn't know what it was going to look like... but we knew that if God was in control, that he would make a way for it to be so. Faithful is about knowing and declaring that God is who He says He is, even in moments when we don't always feel it right that second. He always proves it to be true.

The band have undergone some changes in recent times, with Jason Dunn leaving and you [Jonathan Steingard] taking over lead vocals. Has this been a difficult transition, and how has the change manifested itself on this new album?

Yeah it's been a wild change. In a lot of ways it feels like a whole new band. In some ways it's been difficult, but in a lot of ways it has felt very natural. Musically, Hawk Nelson is still an up-tempo fun pop/rock band. Our live show is still a HUGE part of what we do, and lots of songs on the record were written with that in mind (A Million Miles Away, Elevator, Love Like That, Anyone But You). Our focus has been to add some new flavors to the equation by digging in a little deeper into exactly what we're singing about. I think we pushed further lyrically than we ever have before. It's my hope that God uses these songs to encourage, uplift, and bring hope to those that listen to them.

What's your song writing process?

I moved into the role of the main writer when all these changes occurred in the band. Some of the tunes I wrote on my own, and others I wrote with some friends we've made over the years.... For instance, I spent some time writing with Matt Hammitt of Sanctus Real, Mike Donehey of Tenth Avenue North, Seth Mosley, who produced MADE, and a few others. It was really fun to create songs with some people that I've gotten to know over the years of touring.



If you could work with any song writer, who would it be and why?

Hmm.... well I've got a few favorites there. For pop songs, I'm a huge Max Martin fan. He's a Swedish writer lives in LA now. Even if you've never heard of him, I guarantee you've heard his music. I'd love to write with Martin Smith as well. I grew up listening to Delirious and Martin was a huge influence on me as a writer. I met Martin once, and totally clammed up. Had no idea what to say. Ha.

Who are your musical influences?

My first tape was DC Talk's "New Thang". I also loved Audio Adrenaline and Newsboys early on. Into my teenage years I listened to a lot of brit bands. Delirious. Oasis. Radiohead. Later on, Coldplay. From there I got into pop music quite a bit. Anything swedish-influenced honestly. Ha. You'd be surprised how much music is influenced by ABBA these days. Seriously! Right now my favorite music is a new duo called Jonnyswim, new Lecrae, new Group1crew, and a new Nashville-based band called Leagues.

How would you define success in your career as a band?

I really don't know how much time I've spent thinking about that. I try to take things one day at a time. As a band, there are things we want to accomplish at every opportunity. We feel strongly about being a fun and encouraging band at shows. We feel strongly about the change that Jesus has made in our lives, and want to open the door for Jesus to do the same thing in the lives of those who listen to our music. Of course commercially, we would love for our music to reach as far as it possibly can. I feel like it's our job to succeed in each individual moment.... make the most of the opportunities God sends our way. I'll leave the rest up to Him.

What advice would you give to any aspiring bands out there?

I would tell the truth. It's hard. It's really really hard. It's not glamorous. Be prepared for long drives in a van with stinky dudes, no showers, and bad gas station food. Be prepared for criticism on every level. Be prepared for the strain this career can put on your family life as you grow older and get married and have children. Be prepared to have many many moments when you wonder if it's worth it..... BUT.... if music is the path God has for your life, be prepared for it to be incredibly fulfilling. When I talk to a girl who tells me she was about to commit suicide, and then one of our songs came on the radio, and God used that moment to change her heart and save her life.... Wow. That is success to me. That makes it all worth it. So... if music is your path... I would give this advice.... Write write write. Practice practice practice. Push yourself further and harder. Be kind to everyone you meet. Resist being prideful in the good times. Resist being negative in the hard times. More than anything - serve. I'm convinced service is the key to success. If you can genuinely serve everyone around you (family, friends, churches, youth groups, other bands, concert promoters, catering ladies, fans at the merch booth, EVERYONE), you will find fulfilment in doing what you do.

You're stuck on an island, it's hot, you only have enough battery life left to listen to one song on your mp3 player. What track is it?

First Time by Mercy Me. One of my favorite songs of all time.

What does the next year hold for Hawk Nelson?

We're SO excited for our new record to come out. April 2. We've never worked harder on a record, and never been more anxious to share it. Can't wait to share these songs with people on the road also. Gonna be a great year!

Find out more at HawkNelson.com