Blog: Martin Smith Live In Brighton
Mar 05 2012

LTTM's Dave reports from former Delirious lead singer Martin Smith's first solo concert in Brighton, launching his debut EP 'God's Great Dance Floor'.

On a cold November night in London back in 2009, the British institution which was worship band Delirious, played a concert for the final time. 17 years of history making, countless chart singles and albums, concerts all around the world, it all came to an end that night. Fast forward some two and a half years and attention has switched from a farewell show to an introductory one.

With an excited buzz around the room and a crowd crammed in shoulder to shoulder, impatiently waiting for Martin Smith to take to the stage, this could so easily have been just another Delirious gig. But it wasn't. After a couple of years out of the spotlight, that former Delirious lead singer had chosen this moment to launch his first solo EP at his church in Brighton. Released the same day was a four track EP titled 'God's Great Dance Floor', the first new music from Martin Smith since his former band called time on their career together. And now he was giving those songs their first public performance at a solo concert packed out in the ancient St Peters Church, right bang in the center of Brighton.

Make no mistake, this isn't a small church. Think Cathedral proportions, with an imposing stained glass window as the back drop to the stage. But somehow with a large crowd crammed in from wall to wall there was an intimate, cozy atmosphere. Almost a reverse-tardis affect - large on the outside, but feeling compact and close to the action on the inside. But enough about the old building, as Martin took to the stage expectation must have been weighing heavily on his shoulders. Accompanied by his talented young band, he opened his solo account by cashing in the EP's opening track, 'Back To The Start'. Sat at a piano in the middle of the stage Martin quietly sang, "I'm coming home, Back to the start where you found me. I give you my heart again". Could the words have been any more appropriate? As the song moved into it's crescendo the band joined in, with guitars and drums and Martin belting out "I come alive on God's Great Dance Floor" as a trumpeter on stage provided a real touch of class.



The males members of the band, including Martin, all sported a black bow tie with their white shirts, looking like waiters at a posh hotel. Martin paused to say a few words to the assembled crowd, thanking them for coming and looking somewhat relieved that so many people had turned out. Apologising for planning on playing so many new songs during the night, he also promised there would be a few more well known numbers. Sure enough he proceeded to sing 'God Is Coming', a song he co-wrote with Tim Hughes who was also present in the crowd. Before long it was back to the new EP in the shape of 'Soldiers', with former band mate Jon Thatcher's brother Ben pounding away at the drum kit. For a new song the crowd quickly picked up the vibe and were singing along in impressive manner.

But if they found that one easy to join in with, the next song they knew by heart, because those more familiar songs Martin had earlier hinted about began in the shape of one of Delirious' all time classic tracks, 'Obsession'. With it's dark echoing bass line and emotion drenched words, you could have closed your eyes and for just a minute almost be standing at a Delirious show. "And my heart, burns for you..." sang hundreds of voices. Continuing the sentimental feeling, another Delirious classic came next. 'Did You Feel The Mountains Tremble' has been around so long that Martin pointed out that his guitarist for the evening, Jonny Bird, was only 4 when it was written. Jonny may not be Stu G, but he is clearly not short in the electric guitar expertise department. Wielding his instrument like a man possessed he was more than up to the challenge. Just like the 'old days' the song led into the spontaneous chorus of "I'm going to dance in the river", with the crowd clearly loving every minute.

Back to his new material, 'Waiting Here For You' co-written with Chris Tomlin, is a stunning worship track perfect for a church filled with people to sing along with. Continuing the worship Martin led a few choruses of 'Majesty', before performing new track 'Song Of Solomen', destined for one of his future EPs. The Worship Central song 'Spirit Break Out' came next, with brilliant backing vocalist Sarah Lawrence displaying her amazing voice to great affect before the wonderful Chris Tomlin anthem 'Our God (Is Greater)' kept the crowd singing.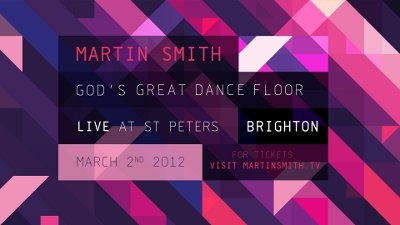 Pausing to retune his guitar, Martin joked that he used to have someone to do that for him. Launching into a long story about how he met Jonny and discovered his talents, he was interrupted by the crowd laughing only to say indignantly "this isn't the funny part" before finally reaching the punch line about Jonny playing glockenspiel on the next song. Later two more Delirious songs were given an airing in 'Rain Down' and 'History Maker', before final song 'Shepherd Boy' from the forthcoming second Martin Smith EP due in the summer, brought the evening to a close accompanied by glitter balls and mood lighting.

This was an impressive show from a man who proved he hasn't lost any of his aptitude for holding a crowd's attention in the palm of his hand. There may have been the odd hint of nerves, he claimed there were a few "bum notes", but this was still an assured performance which did well to make the crowd feel involved despite many of the songs having never been heard before. The new songs Martin is writing right now are plenty good enough to earn him new fans will keeping his loyal following interested and you have to assume that those classic Delirious songs in the set list are not going to disappear any time soon. So no doubt this mix of old and new will continue to draw audiences wherever this accomplished performer chooses to take his shows. The follow-up EPs will be well worth checking out too.

Dave