Interview: Stu G - One Sonic Society
Apr 15 2010
In one of our most eagerly anticipated interviews ever, LTTM talked exclusively to former Delirious? guitarist Stu G about his new band, One Sonic Society, ahead of their debut EP release in May. Stu tells us about his time with Delirious?, how the new band were formed and what OSS have got planned for the future.

You had an incredible career with Delirious?, what are your own highlights from the band's history?

Oh gosh there's just too many... the first 18 months of going full time was amazing, when we didn't know if it was going to work or not, gigging every weekend, Wembley Stadium, going to America for the first time and every subsequent visit, Deeper going top 20 in the UK, touring with Bon Jovi, making all our records, every single one has been such a learning experience. In recent years the chance to travel east round the world to countries like India and China.

How did the new band, One Sonic Society form, and how did you come up with the name?

OSS formed after I started to spend time in Nashville to set up work post delirious and just get a feel for what the next stage could be like. I met Jason Ingram who is an awesome songwriter and producer, and we started to write together. Out of that first batch of songs we finished Greatness Of Our God. Jon was with me one time and Jason introduced us to Paul Mabury.

We all have loads of different stuff going on but all love to make music to serve the church. That's the primary vision for OSS. I love creating with these guys, its very early days but I'm excited to see what comes of it. Jon came up with the name, One meaning unity, Sonic meaning that we're gonna make the best noise we can, Society meaning that its not just about us but a wider collaborative community.

Do you think OSS will pick up where Delirious? left off?

Delirious was really its own thing, a big melting pot of ideas and people. The OSS vision is a lot more focused. I'm looking at it in a way that I can take all my delirious experience and learn from that to help make better music and decisions in the future.

Because Jon and I are in OSS together, people will draw parallels, and there will be a sound that to some extent is familiar, because we were a huge part of the d? sound. As to us picking up where d? left off, who knows...

OSS are releasing their first EP soon, can you tell us a little bit about the songs on that release?

Yes there are five songs, The Greatness Of Our God, Forever Reign, Burn, Our God Will Come and Meet With Me.

Greatness and Forever Reign are co writes with Reuben Morgan from Hillsong. Burn and Our God are totally OSS, and Meet With Me was written by myself and Mia Fieldes from Sydney. Like I said, the vision of these songs is to serve the church. Already a number of places from Australia, USA and UK are singing them. We have loved recording together and are excited about the possibilities for future songs and recordings.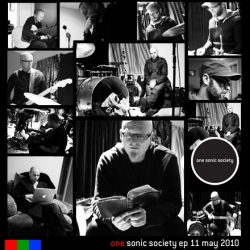 Are you planning on releasing a full album later in the year?

Our plan is to release three EPs (we're just finishing our second) and off the back of some live events, make a live recording compiling the EPs together. So this will all happen over the next year.

Do you expect OSS to be touring in the near future, and if so, will that be in the US, UK or where?

OSS will play live, but not in the sense of a full on touring band. We'll be looking for events and stages that we feel really suit us. We're literally just talking about that now. We played a small conference in Franklin Tennessee a few months ago, it was awesome! I can't wait for people to hear this stuff live! Both in US and the rest of the world.

It seems you've been very busy since leaving Delirious, songwriting and playing guitar with a whole host of artists. How do those opportunities come about?

Well since we found out that d? was finishing I've been very intentional about what I should be doing next. I would be gutted if I couldn't sustain a career in music so I've worked really hard at connecting with people and most of my connections and opportunities have been in America.

I now have a new manager in Dave Steunebrink, and a publishing deal with Provident. They are the things that create the work for me. I'm looking to widen my opportunities in the UK too but it's a smaller pond.

I absolutely love the diversity and the collaborative nature of life now. Walking into a room with someone you've never met and writing a song is something that I never thought I would enjoy but I'm loving the challenge, and I'm learning all the time.

In your opinion, what makes the perfect worship song?

So hard to answer, but I think lyrically the individual has to connect and identify with the song, but worship is not about the individual but very much a communal thing so the challenge is to give a melody and theme that connects both with the individual and the congregation. So for me it's about a journey that culminates in exuberant worship of God because he is above everything else.

You're stuck on an island, it's hot, you only have enough battery life left to listen to one song on your mp3 player. What track is it?

My worst question possible :) I'm so indecisive...
Ok so if it was right now? It would be Elbow - 'Bones of You' off 'The seldom seen kid'.
Ask me in five minutes and it'll be something else!

What does the next year hold for Stu G?

I'm excited! Lots of writing, recording, more time in Nashville (with my family too), more OSS. More time for friends... One of the things I'm excited about is that I'm getting more involved with Rob Bell's church Mars Hill in Grand Rapids. I'm going to go there on a regular basis to help lead the music.

And I'm gonna get back into golf too!