All Sons & Daughters
Louder Than The Music have the following articles about All Sons & Daughters:
Latest Article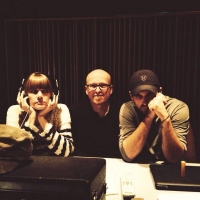 All Sons & Daughters are currently recording their next studio album, expected to be released this May. The worship duo spent last week at Nashville's legendary Sound Emporium Recording Studio where they are working with producers Paul Mabury and Shane Wilson. Former Delirious guitarist Stu G has also been recording guitars in the studio for the album (pictured). "We have also been writing a lot as we gear up for our next studio project with Paul Mabury in January", explained the group. "We are already so excited about these songs and cannot wait to share them with you." All Sons…
More...

All Sons & Daughters Releases:


Live


The Longing


Season One


Reason To Sing


Brokenness Aside EP