All Sons & Daughters
Louder Than The Music have the following articles about All Sons & Daughters:
Latest Article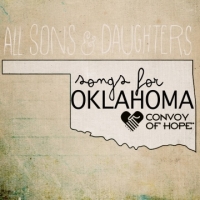 Tennessee based worship duo All Sons & Daughters have released their 'Songs for Oklahoma EP' through Noisetrade with all proceeds going towards the relief effort following this week's devastating tornado that raged through Oklahoma. The duo have said they will donate all proceeds and tips received for the EP through Noisetrade to Convoy of Hope, which is sending relief teams to Moore, Oklahoma. 'Songs for Oklahoma' features three songs, 'Give Me Jesus', and live versions of 'Reason To Sing' and 'Your Glory - Nothing But The Blood'. "Please consider donating for the EP, and please continue praying for those devastated…
More...

All Sons & Daughters Releases:


Live


The Longing


Season One


Reason To Sing


Brokenness Aside EP