Jackie Evancho
Louder Than The Music have the following articles about Jackie Evancho:
Latest Article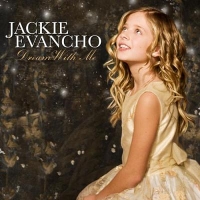 10-year-old soprano prodigy, and runner up on the America's Got Talent TV show in 2010, Jackie Evancho releases her first full-length album 'Dream With Me' in the US tomorrow, 14th June 2011, following its UK release last week. The eagerly awaited classical pop crossover album fulfils the promise of 'O Holy Night', Jackie's seasonal EP collection released in November 2010 in the US which became the year's best-selling debut recording. A contestant on America's Got Talent in 2010, Jackie catapulted into the quarter finals round when her unaffectedly pure performance of Puccini's O Mio Babbino Caro (one of Maria Callas'…
More...
More about Jackie Evancho:

There are no other articles currently available about Jackie Evancho, why not take a look at some of the other artists featured on the right?